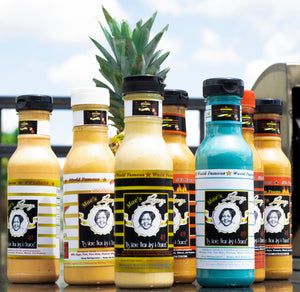 It's More Than Just A Sauce!
It's More Than Just A Sauce!
We were attending Gator Festival in SWFL doing our normal vendor duties, giving out samples when Mae's Legacy sauce gave this customer the "wows!". The internet went crazy! Although we have over 12 million views this video racked up 9.6 million views on its own! We were not prepared for what was coming next. Hundreds and thousands of orders started pouring in, you can imagine we had to fulfill these orders within a matter of time, alone, without a co-packing company. It took long weeks and lots of post office runs to get over 6700+ orders completed! In the end, we created long lasting memories through the process with many more ideas to come!
Alexis Love
New York Best Selling Author and Olympic Gold Medalist loves Maes Legacy Sauce.
Kelly Hyland
Reality Tv Star Kelly Hyland took home Mae's Legacys Wild Mild sauce!
Senior Vice President Monai
Senior vice president Monai here! Maes Legacy sauce is more than just a sauce it's served with love in every bottle. We absolutely appreciate the love and support everyone has given us. Continue this journey with us while we grow.